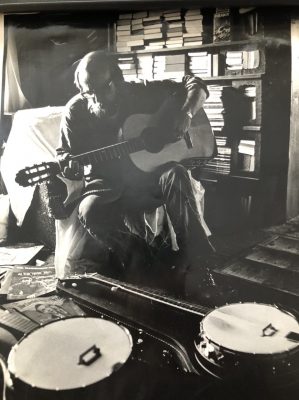 On Wednesday January 8 2020, our beloved Father, Grand Father, Great Grandfather, Friend, Master Carpenter, Musician and Hero passed away surrounded by his loved ones and friends.
Buzz's family have started this page as a means to share stories, pictures, music and updates.
Add your photos below, or click here to read and add shared personal stories about Buzz.
Born 12 October 1942 in Forsythe, Montana to Reverend Robert Nelson Buswell [Presbyterian] and Lillian Megan Isaac Buswell.
Lloyd, who was always known as "Buzz," attended Cody, Wyoming elementary, Junior High, and High Schools. He was very musical, singing in many vocal competitions and attended Hastings College, Nebraska on a vocal scholarship. He often sang and played guitar, banjo and ukulele in groups in every town or city in which he lived.
During his school years he also worked many other jobs, including cleaning glass cases at the Buffalo Bill Museum, acting as a gas station attendant, guiding hunters on trips in the wilderness, acting as camp cook, building roads and fighting wildfires in the wilderness surrounding the Yellowstone Park.
Always a "family man first" he married Cheryl Buckingham and this marriage was soon followed by the birth of a daughter, Leah Anne.  After a year or so they moved to Kansas City, where he worked for the Pratt and Lambert Paint company and where his son, David James, was born. Unfortunately, this marriage did not last.
Devastated by the loss of his family, he eventually moved to Green Mountain Falls, Colorado where he met Carol Apperson Brown.  They were married there on December 29, 1973, when he instantly became a loving and wonderfully involved stepfather to three children, Terri Lynn, William Scott, and Elizabeth Anne.
Shortly after Buzz and Carol were married, they moved their new family to Gunnison, Colorado to go to college.  They received significant support during that time from what was then the Western State College Foundation. In order to contribute to the cost of college, Buzz would sometimes go to Los Angeles and work as a propmaker (carpenter) for the Motion Picture studios there with his father-in-law. He also worked many part-time jobs around Gunnison, including meat cutter, clerk in a hardware store, and Army Surplus Store, and as manager of the "Old La Veta Hotel" apartments.
The family lived in Gunnison for four years and returned for one additional student-teaching semester so Lloyd could teach at both the elementary and High School levels.  Lloyd graduated in 1979 with double bachelor's degree in Industrial Arts and Education.  After graduation, he taught two years at Baker [Oregon] Junior High, where he was so popular that it was observed by his wife that when "he entered the auditorium with or without his 'All Teacher Band' the entire student body would stand and start cheering "
Soon, due to a need for better pay, he reluctantly returned to Los Angeles, where he became a member of the International Association of Theater and Stage Employees and worked as a propmaker, as well as in the special effects and art departments of all the studios there for a total of 20 years.  He also served as maintenance foreman for the Los Angeles Paramount Studio. There he worked on many television shows, including Cheers, Wings and Star Trek: Deep Space Nine.  However, he worked mostly on movies such as Lemony Snicket, Goonies, Star Man, the original Red Dawn, The America President, Matilda, Strange Days, the Postman, and many, many others. His credits number nearly 100 films and television episodes.
Upon his retirement, he moved to Lynnwood, Washington, with his wife.  The slow pace of retirement proved too much for him to handle and he very quickly returned to the education community, where he taught as a substitute for a few years, mostly in Elementary and Junior High.  This broad experience across Northshore School District led him to discover that, even though his Industrial Arts training was sorely out of date, teachers needed an advocate who could help them provide for their students in the current low budget environment. So, when an opportunity came up as District Carpenter, he jumped at the chance.  He held that position for many years, where he often had the opportunity to create whatever was needed in the classroom from scratch, which he found greatly satisfying.
Buzz was always helping people in need.  It is not known how many trips he made to the store, people he picked up along the road, actual lives he saved (although we do know of at least two), early morning hours on "Seminary Watch," sacrament taken to shut-ins, flowers taken to widows, or tires he filled with air.  Charles Spurgeon, a British clergyman once said, "A good character is the best tombstone.  Those who loved you and were helped by you will remember you when forget-me-nots have withered.  Carve your name on hearts, not on marble."  Buzz didn't like to talk and sometimes didn't seem the least sympathetic but was always there when you needed him. His tombstone is written on our hearts.
Lloyd and Carol were converted to the Church of Jesus Christ of Latter-Day Saints while they were in college. Buzz leaves his wife, Carol, his younger brother, Mark, son, David, and stepchildren, Terri Williams, Scott Brown, and Libby Murray, as well as 37 adoring grandchildren and great grandchildren. A brother, daughter and one grandson preceded him in death.
In lieu of flowers, the Buswell family encourages you to consider a gift to the Lloyd Buswell Memorial Fund for Education.
The Lloyd Buswell Memorial Fund for Education has been established by Western Colorado University Foundation to celebrate Lloyd's legacy as an educator.  If you would like to make a gift in Lloyd's memory, please send a check payable to:
Western Colorado University Foundation (write "Buswell Memorial" on the memo line)
909 E. Escalate Drive
Gunnison, CO 81231

Or, to give securely online, go to: WesternUp.org (and simply type "Buswell Memorial" in the comments box).
100% of your gift will be used to support Western students who share Lloyd's passion for education and the arts. Western Colorado University Foundation is a 501(c)(3) organization (Tax ID# 84-0709935), and gifts to it are tax-deductible to the extent allowed by law.